Learn about the designer, the team that makes your clothing, and about our process and ethos.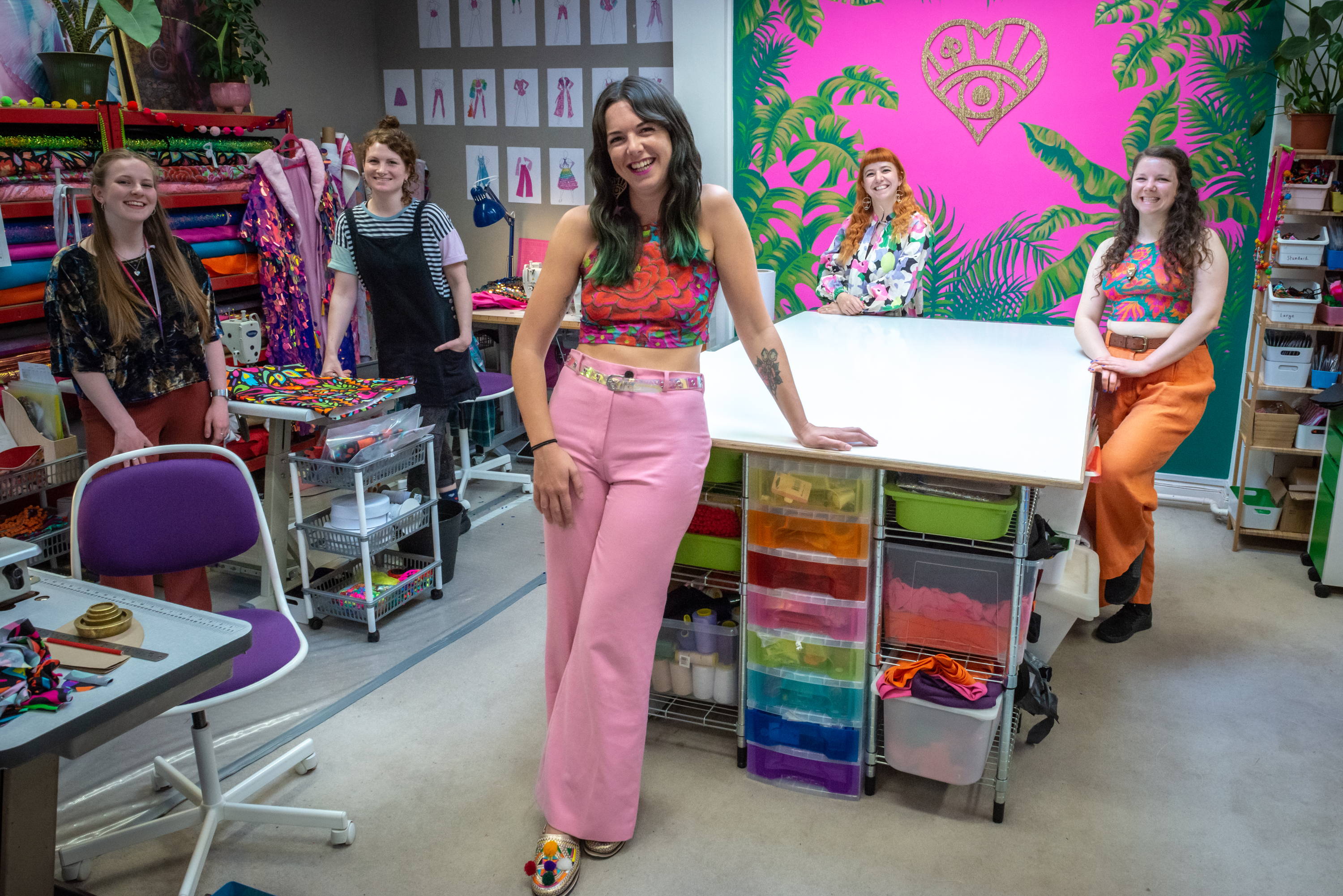 L.O.M was founded by Louise O'Mahony in 2015. The brand originally started as a colourful side project to her 1950s style wedding dress label, but soon became an internationally recognised festival clothing label.
With a background in fashion, costume design and textiles, each unique print design is created by Louise. Inspired by nature, forests and jungles, psychedelic music, the alternative festival world and Berlin club scenes.
Louise combines a wealth of experience to create eccentric and instantly recognisable designs, just as at home on the festival fields as the fashion show front row.  
A loyal global following means the unique designs and signature shapes can be spotted all over the world. No matter what festival you go to, you can be sure to spot some L.O.M decorating the fields, playa or mountain top.
Her designs have been worn by artists and musicians including Sophie Ellis Bextor, The Flaming lips, Natasha Beddingfeild, Sylvan Esso and Laura Lee (Khruangbin).
Collections have been launched during New York Fashion Week, at Berlin Alternative Fashion Week, and most recently on top of the W Hotel on Hollywood Boulevard, with a catwalk extending over the rooftop pool.
Be comfortable being eccentric.
L.O.M believes beautiful clothes have a magic ability to boost your mood, attitude and energy. Our lycra and loungewear empowers you to express your true character and personality. We want to give people the confidence they deserve to dress brighter, bolder and to allow their personalities shine through the clothing they choose to wear.
We consider ourselves an ethical brand. All of our team are paid above the national living wage, they work in safe and calm environments and we try to be as inclusive as possible in our shoots, campaigns, and socials - not just in those who feature in the images, but also behind the scenes.

Charities we have donated to recently include: Lilypad Library • MindOut • Centre For Black Equity • Rise • Kaleidoscope Trust
We don't believe in fast fashion, disposable trends and fading fads. Our pieces aren't IN fashion, so they can never go out of fashion. They are made to last you years, for you to wear over and over. We use the highest quality fabrics, and the quality of our printed fabric is second to none, we have spent years perfecting our pieces to be as durable as possible, so you can roll around in a festival field, or cartwheel down a canyon. Our pieces are more expensive than the high street, theres a reason for that, they are significantly higher quality and exceptionally more fabulous!
We know that fashion is one of the biggest contributors to global pollution, and we want to minimise our impact, whilst also making quality products. We recycle over 80% of studio waste, use eco packaging with no plastic, compostable mailers and soy based inks, designs are created to be cut as economically as possible, reducing fabric waste and all of our fabric is printed in the UK.

During Black Friday we donate money to Trees For Future for every sale, and have contributed to planting over 2000 trees!
Rozee joined us in 2019, and she leads the way with the making in the studio. Rozee trains up new team members and her skilled hands have made 100's of your pieces.
Studio Manager, Dispatcher, Machinist
Kitty has been with L.O.M since 2016, starting out as an intern and working her way up to studio manager, and now Production manager. She cuts the pieces and oversees the orders as they move through the studio, she has also recently become a machinist.
Sophie makes all of the jewellery, belts and harnesses, and has also styled several L.O.M shoots this year.
Technical Assistant, Shoot curator, Dispatcher
Rosie cuts and packs orders, manages our Depop page and helps style shoots and press loans. She can also be regularly found on our Socials creating styling content.
Marketing, Creative Digital Coordinator
Carla manages our mail outs and marketing, creating blog posts and organising content and keeping the website up to date.
Machinist - Head of Lycra
Emily is the newest member of our team and is the new Head of Lycra, she oversees the making of all the lycra pieces and helps problem solve when we are creating new designs.