Fitted Face Mask
£1 from the sale of every mask in December will go towards Lilipad - a non-profit initiative that aims to facilitate access to education for underprivileged children living in vulnerable communities by opening libraries around the world.
Masks are the new norm for 2020 - Wearing a face covering is mandatory in many places around the world for travelling on public transport and going into shops, we might as well make them look fabulous and part of our outfits!
• Hand made face shaped mask with centre seam
• Double elastic strap to hold behind head and neck
• Made with high quality tightly woven matte cotton sateen
• Lined with Cotton
• Protect your lungs from dust at desert festivals
• Protect yourself from wet airborne germs
• Prevents you from touching your mouth and nose whilst travelling - the most common way for the flu virus to enter your body.
• Looks way better than a surgical mask!
• Washable at 40 degrees
• For hygiene reasons we cannot accept returns or exchanges on these masks.
Please note - If you bought a mask pre June, we have changed the sizes. The Large Adult Mask is now slightly bigger than the standard adult size. Child size is suitable for 5-14 year olds.
The larger masks are better for people with bigger faces, beards, or those who just want a bit more coverage. But some people with 'smaller' faces have found these to be more comfortable. If you are unsure, it is probably better to order up a size.
* We are selling these masks during a virus spread because people want to wear masks during the outbreak. Standard masks like this one stop you from touching your face, avoiding getting germs directly into your mouth and nose. Medical grade face masks are needed when you are in regular contact with someone with the virus, and should be kept for these people, who need them most.
These masks are not medical grade.
The best way to prevent a virus spreading is to wash your hands regularly, especially after using public transport or being at large gathering, and disinfect objects and surfaces at your home and work place regularly.
Customer Reviews
12/13/2020
Chloe
United Kingdom
I recommend this product
Really great masks
Initially, I made my own mask, and some for others, using the L.O.M. pattern (which is great and easy to follow - I don't do much sewing at all normally). I loved the fit so much I bought a Folklorico print mask as it is a print I'm obsessed with. These are such fab masks; they're the only ones I'll wear. They fit really well and don't gap everywhere like I see so many other masks do. I like that the elastic is around the back of my head instead of pulling on my ears too. Mine has also survived many hot machine washes and still looks super vibrant.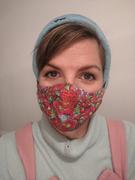 12/13/2020
Sian
United Kingdom
I recommend this product
Best face mask
This is the best face mask I own. The elastic round the back of the head makes it so comfortable and it doesn't move when you talk like others can do. And the prints are so gorgeous. May be a little more expensive than some but worth it and good to support a local business too.
12/11/2020
Niki H.
United Kingdom
I recommend this product
Beautiful masks
I have three of the large adult face masks, and I really rate them, lovely fit, and comfortable to wear. Beautiful fabrics too.